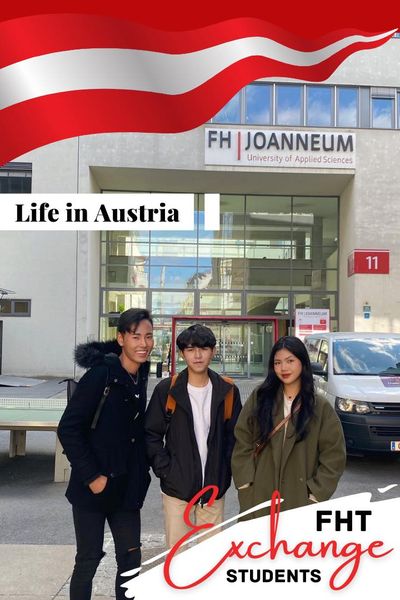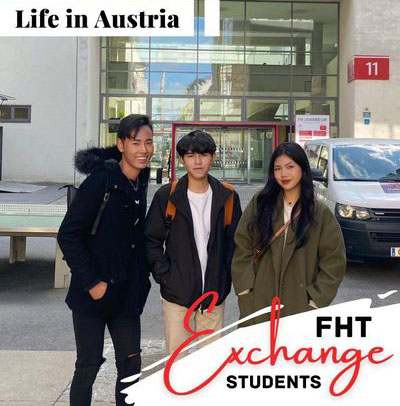 A little over two weeks ago, three students from the Faculty of Hospitality and Tourism (FHT) arrived at FH Joanneum University of Applied Sciences in Austria to begin their semester abroad. All three students were awarded full #ERASMUS scholarships. This includes a monthly allowance for accommodation, living expenses, and travel costs.
They will have the opportunity to study in classes with other international exchange students from around the world learning new languages, subjects, new cultures, and meeting new friends.
FHT were delighted to receive such a positive email from the international coordinator at #FHJoanneum regarding the students. In addition, the three students have also sent an update to FHT.
Message from the co-ordinator:
Gabriel, Siri, and Assylay arrived safely and finalized their Learning Agreements today – I am impressed how interested and diligent they are.
Message from students:
👦🏻 #Hallo. Ich bin Gabriel. It's been two weeks since I'm here in Austria as an exchange student. I've had good experiences so far. I met a lot of friends and we actually get along very well. Everyone is so nice besides the weather which is a little bit cold and dry. But here in Bad Gleichenberg is a beautiful town and lovely. Thank you for such an opportunity. I and my friends will take a lot of pictures for you guys. Thank you! Techüss!
👩🏻 Halo servus! Mein name ist Sirikanya (My name is Sirikanya) 4th years student in FHT, PSU Phuket. I'm an Erasmus student doing my exchange semester in #Austria I'm only here for 2 weeks but so far so good! We met many Austrian friends and also other friends around the world To have this kind of opportunity is really good for me. Help me grow so much personality and professionally. Baba, Sirikanya
👦🏻 Hello, I'm Arwin. Now I study in FH Joanneum, Austria. This is such a great opportunity to learn and live in a culture diversity community. So far so good. I have friends from more than ten different countries and we have a great journey together.
In addition to the three students in Austria, FHT are delighted to be sending five excited students to study abroad at Universiti Teknologi MARA (UiTM), Malaysia under AIMS Program. They will depart at the end of March 2022 and will study abroad until the middle of August 2022. All five will receive full scholarship funding which includes monthly expenses, round trip airfare, and insurance.
On behalf of FHT, we wish all students the very best of luck. Stay safe and we look forward to hearing about your new adventure when you return. ♥️